What's happening at BDS?
Official opening of new Craigieburn site
On Monday 3rd of February we officially launched our new site at the Craigieburn Junction Specialist Centre.
The event was attended by special guests, including community leaders, participants and their families, BDS Board members and staff.
BDS Chair, Graham Edwards acknowledged that we were meeting on Gunung-Willam-Balluk land and the Wurrundjeri people as the first people of this land. Graham paid his respects to Elders past and present, and the Elders who may be present from other communities.
The site was officially opened by Carole Fabian on behalf of Maria Vamvakinou MP, Member for Calwell.
Our CEO, Barb van den Vlekkert said she was very excitied to be launching our new site, which will allow us to offer greater support to individuals and their families living in the growing communities around Craigieburn.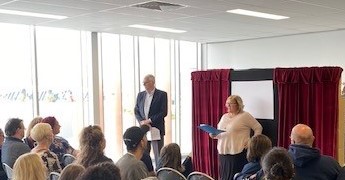 Barb said our vision is to ensure BDS is identified as an integral part of the Craigieburn community. "The Board is committed to this vision and resolved at our planning day in September last year to invest signifcant resources to expand in Craigieburn. We want to grow the networks we have established over the past seven years."
The Craigieburn site, along with our existing site in Broadmeadows, will enable us to provide a more responsive service for current and furture service users in their own communities.
Graham thanked Barb, the management and Craigieburn teams for their enthusiasm and work to help us achieve this important milestone.
The event ended with a fantastic puppet show performance by our Craigieburn participants.